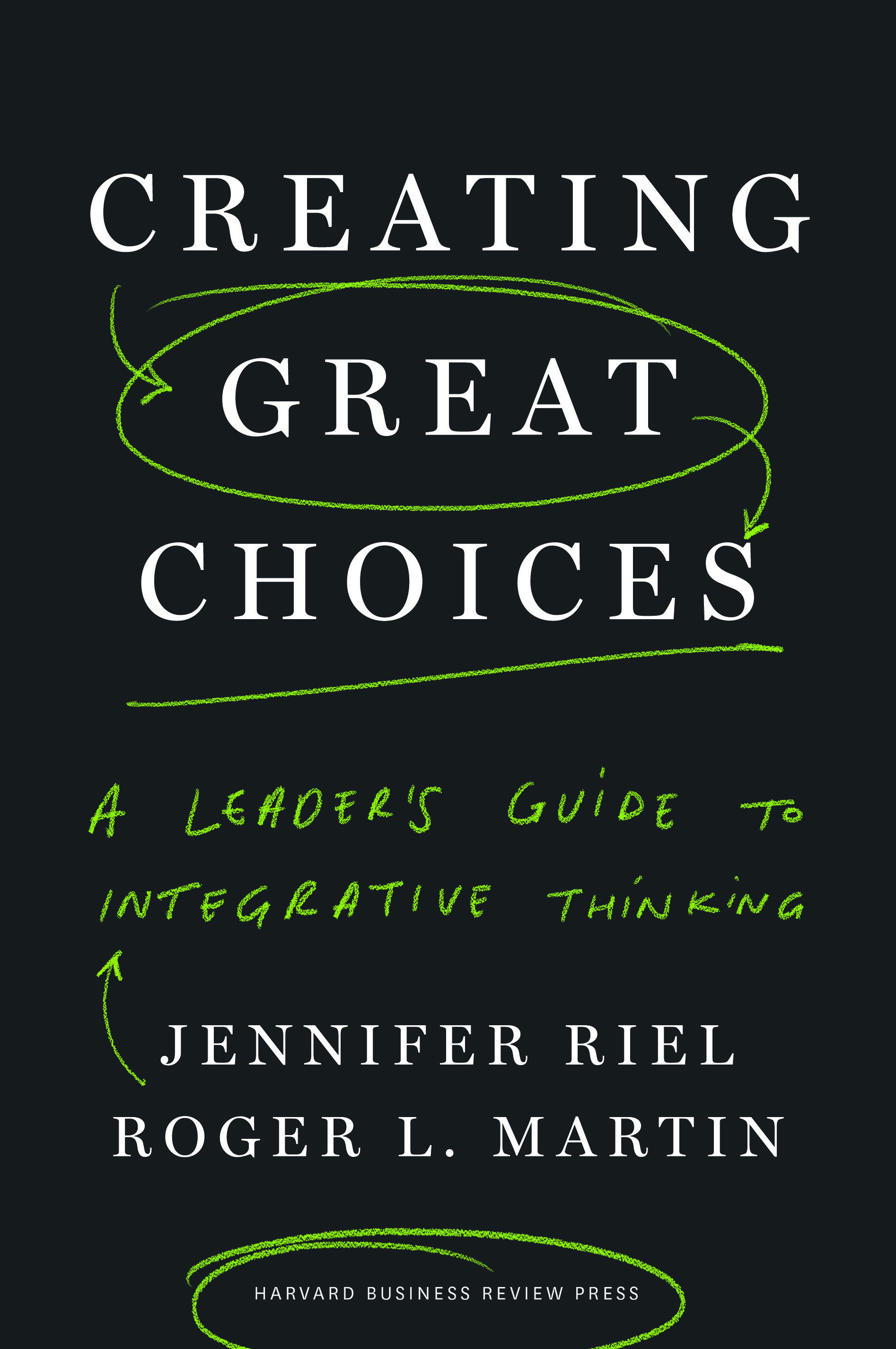 In his 2007 book, THE OPPOSABLE MIND, Roger Martin made a convincing argument about how successful leaders think. They can hold two opposing ideas in their minds at once, he argued, "and then reach a synthesis that actually improves on each."
That best-selling book focused on how successful leaders think, more than what they do. But over time, many self-declared fans of integrative thinking began to ask this question: "How do we actually apply integrative thinking to our own problems and situations?" They understood the concept but not how to apply it.
Now, in CREATING GREAT CHOICES, Roger Martin and Jennifer Riel present a clear methodology to help readers map out their problems and the opposing ideas for solving them. In the process of teaching the methodology to graduate students, executives, educators and community leaders, Roger and Jennifer have refined and enhanced their own understanding of integrative thinking. And, they offer practical and memorable stories from leaders who have applied integrative thinking successfully - from music mogul Jay-Z to Jack Bogle, founder of Vanguard Group.
This anticipated book introduces integrative thinking to a new generation of people who can use it to make great choices.
"The rarest of business books that teaches decision-makers how to think, not what to think. I found it superb and wholly original."
-Malcolm Gladwell, bestselling author, The Tipping Point, Blink, and Outliers; staff writer, The New Yorker
"Two talented strategists offer vivid stories to unlock your creativity, strong evidence to challenge your assumptions, and practical exercises to sharpen your thinking."
-Adam Grant, New York Times bestselling author
"I have worked hard to become a practitioner of this approach of finding the better third way, because I truly believe it leads to more effective and more creative choices."
-David Taylor, Chairman and CEO, Procter & Gamble
"It's an essential read that won't just change how you think, it will also change how you act."
-Arianna Huffington, author, Thrive; CEO, Thrive Global; and founder, Huffington Post
"In this compelling work, Riel and Martin show us how to use this fresh mental model to make great choices rather than settle for weak compromises."
-Daniel H. Pink, author, Drive and To Sell Is Human
"A critical tool in both business and life."
-Lowell C. McAdam, Chairman and CEO, Verizon Communications
"The Opposable Mind introduced the idea ... Creating Great Choices sets you on the path to mastery."
-Tim Brown, CEO, IDEO; author, Change by Design